Mission Statement:
Pegasus provides adults with developmental disabilities meaningful activities and community engagement to facilitate growth, dignity, and choice

Pegasus Community Project believes that all citizens are entitled to the opportunity to participate in the life of their community and to grow as individuals.  Pegasus was founded to offer citizens with developmental disabilities these opportunities, as well as to support them to plan their lives and to make personal choices.
Pegasus also believes that the health and vitality of a community are enhanced when its members know each other and appreciate each other's gifts.  Pegasus strives to create an environment that promotes mutual support, dignity, and respect.
History
Pegasus is a grass roots organization founded by a small group of volunteers in response to a need they saw in the community.
Pegasus was founded in 1994 by a Founding Board of Directors led by Marie Perrotta, a parent of Andrew, her adult son with developmental disabilities, and comprised of Margret Ewing, a parent of a daughter Sarah; Allison Masters, a teacher of young children with development disabilities in the Metropolitan Toronto School Board; Sally Grieve, an occupational therapist working in the same school board as Allison, and Janice Murphy, a day care administrator. Shortly after the programs were launched, they were joined by Barbara Johnson, a nursing instructor at the University of Toronto, whose daughter Gretchen became one of the original participants.
Citizens
As a group of parents and professionals, the founders feared for the future of people who did not have any support or programs after they finished school at age 21, the situation faced by hundreds of young people in 1994. They could foresee the erosion of social skills, academic losses, loneliness, isolation and heightened stress for families.
Most acutely, they feared these young people would lose their connection to community life, a connection that for most people is forged through daily interaction, work, and participation with fellow community members.
They seized the opportunity to create an exciting and progressive organization. Optimism and creativity are predominant themes reducing fear and anxiety for the future that spearheaded the initiative at the start.
It now has four separate program sites, and a Thrift Store which provides participant support and programming. Pegasus offers service to 45 individuals Monday through Friday, 11 1/2 months of the year.
The Perrotta family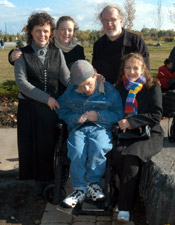 In 2004, Marie Perrotta, pictured here with her family (left), was named Citizen of the Year for Beaches/East York. On receiving this recognition, Ms. Perrotta stated that, "this award is a gift to all of us who have worked to make Pegasus part of our community and I am thrilled to accept it on our behalf."
The success of Pegasus demonstrates that people in need can help themselves, but that the support of the wider community is essential to their success. Deeply committed individuals have created the Pegasus infrastructure, operated the service itself, and provided responsible leadership. Individuals, businesses, and the public sector partner with the organization in the form of financial and volunteer contributions, and thus create the capacity of Pegasus to keep its commitments to its members and their families. Pegasus and its partners are thus able to improve the quality of life for some of our most vulnerable citizens.